Thursday, 3 January 2013
2013: The Year of the Finished Project.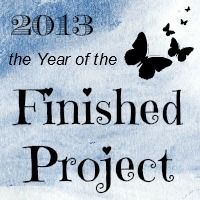 I made a page
where I can keep track of my progress on this quest.
I have a habit of starting quilting projects with only a vague intention of their end form. These paper-pieced hexagons had such a start in life. I can't remember when I started this - probably about 2 years ago. I pulled it out yesterday and thought that it would make a good "stained glass" effect curtain for the littlest room.
So, part one of my Finished Projects goal for January is to finish the piecing and then turn this panel into a simple curtain.
Part two is to sew up the top and jacket set that I cut out a couple of months ago and has been sitting on the spare bed ever since. My parents are coming to visit in February so it really needs to be cleared away before then.
Part three is to spin at least 1 skein from my never-ending black sheep fleece.
Then I really should get on with my first
Steek in 2013
project.