2013: The Year of the Finished Project.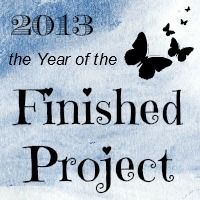 Wow, we're a quarter of the way through February already as I post my monthly update on the Year of the Finished Project.
January's goals were achieved. I now have a "stained glass" effect curtain in the "littlest room",
a new grey twinset in my wardrobe,
two skeins of sheepy-smelling handspun (probably destined for a cardigan - I have a thing for cardigans),
and a new coffee cozy, complete with a newly acquired skill in steeking.
UFO Plans for February.
1. Finish sashiko embroidery piece (sewing)
2. Finish hot water bottle cover (sewing)
3. Finish Shifting Focus cardigan (knitting)
4. Spin another skein (or two) of fleece
For new stuff, I've got a request from an almost-5-year-old who wants a smart jacket to wear and I find it hard to say no when he prefaces the request with "you're a good knitter aren't you Punci (aunty)?"!
Then today I got a call from Mum to see whether I had capacity to help my aunt out by finishing the cardigan that she's started but got stuck on. I adore my aunt and so I can't possibly say no to that either.
Both of these really need to be done before ANZAC Day (25 April) as I fly off on holiday the next day. I was aiming to not have lots of knitting deadlines this year. So much for my good intentions!