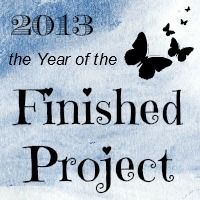 I suppose it shouldn't come as a surprise that February is a short month as it is (almost) the same length every year. But February was a month of getting waylaid by projects other than the
previously stated FO goals
.
I did complete my
Shifting Focus cardigan
(on 2 March, but that still counts as February right?).
This cardigan was started back in November with the goal of finishing it off in one month for NaKniSweMo (National Knit a Sweater in a Month) but that didn't happen. However it's done now.
And see that little pink blob of knitting in the bottom left of the picture? That's Aunty M's cardigan-in-progress which has been the main distraction.
I have one other FO to share for February. A simple pair of stripey socks.
So let's sweep the un-met February goals under the Axminster carpet and start afresh with a new set of goals for March.
1. Finish the back and one front of Aunty M's cardigan.
2. Spin a skein of black fleece.
3. Finish the Noodlehead go-anywhere bag (which was partially cut out some time last year).