The lovely Lynne over at
Never too hot to stitch
is hosting
2013 Year of the Finished Project
.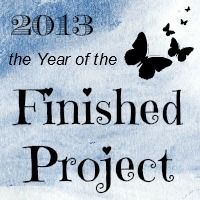 I was chatting with Mum over Christmas about my vague and unspecific desire for less clutter in my life. In my headspace, crafty UFOs are a source of clutter. (I saw the start of an episode of Hoarders last night, so I realise that in the grand scheme of things, I don't have a problem, but ...) I only have a small unit and having less stuff should make it easier to keep things tidy and in their place. Mum suggested setting some specific tasks rather than just "try and clear out the UFOs from the spare room".
So, a list. Since I keep track of knitting projects on
Ravelry
, this is primarily a list of sewing projects.
Denim log cabin quilt - pieced, basted, just the quilting and binding to go
Grey striped twinset - fabric already cut out, just needs sewing up - finished January 2013
Noodlehead Go Anywhere bag - partially cut out - finished March 2013
Sashiko embroidery piece - started
Large hexagon paper piecing project - partially pieced - finished January 2013
Foundation paper piecing project- partially pieced
Raw Fleece - needs skirting and spinning - 1 fleece spun
Hot water bottle cover - just needs buttonholes and buttons - started using this without buttons. calling it completed.
Strip piecing quilt - strips cut. Some strips used up in a smaller quilt; Some more strips used as panels on bags for CAH and YCB.
Squares cut out for a project that I have no recollection of
Not strictly a UFO as it hasn't been started, but I have 3 printed panels that I bought in Japan which I really want to turn into wall hangings.
??? Not sure what else is in all my boxes.
Epic rag rug - in progress. Using up rag bag singlets and t-shirts.